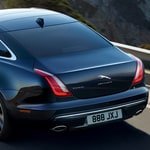 The Jaguar XJ aesthetic is one any car lover could fall in love with. Glossy with a lustrous shine that is classic to the Jaguar image, this luxury sedan is a favorite for daily drivers, adventurers, and car collectors in Clearwater, FL and other nationwide cities. There are two distinctive engines, either V6 or V8, that rev between 340 to 470 horsepower and can go from 0 to 60 in as little as 5 seconds. In other words, the Jaguar XJ is an elegant beast that can cruise smooth and steady.
The exterior of the Jaguar XJ features a black mesh grille with a signature Jaguar emblem in silver. This is complimented with side sills and a seamless rear spoiler. The floating roofline flows from a wrap windshield, perfect for panoramic vision to your blind spots.
Does the Jaguar XJ sound like your idea of the perfect luxury sedan? Come test drive one at Jaguar Clearwater.