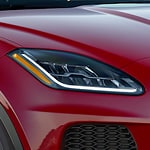 The 2020 Jaguar E-Pace is a compact performance SUV. Combining the best of function and form, the E-Pace gives drivers in Clearwater, FL all the usefulness of an SUV while still looking sleek and sporty.
Starting in the front profile, the brilliantly bright J-Blade LED headlights frame a complex Honeycomb-mesh grill. The LEDs are designed to last the life of the car, and they use less energy than standard light options. The taillights are also LED, helping to give the tail end of the car an energetic look. The E-Pace also offers an integrated twin exhaust finisher, which gives the Jaguar a performance feel. These exterior features help make the 2020 Jaguar E-Pace a dynamic vehicle.
The 2020 Jaguar E-Pace gives all the appearance of a performance vehicle while still being useful as an SUV. Check out the form and function yourself. Come into Jaguar Clearwater and test drive The E-Pace today.